lipiec 31, 2012 in _Marek, półmaraton, zawody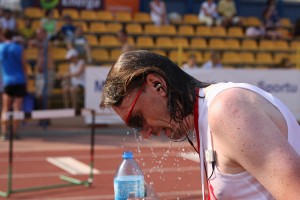 28.07.2012 IV Półmaraton Ziemi Puckiej. Wspaniała trasa: Puck-Błądzikowo-Rzucewo-Osłonino-Żelistrzewo-Błądzikowo-Puck. Start i meta na stadionie.  Tylko ta temperatura… W cieniu podobno było ponad 30 stopni C, tylko… niestety 99% trasy było bez cienia 🙁
To już drugi mój oficjalny półmaraton. Po cichu liczyłem na poprawę swojego czasu z marca. Niestety, w tym dniu temperatura była silniejsza od chęci.
Myśli kołatały w czasie biegu wokół jednego -aby wytrzymać i nie zejść z trasy. Nie każdemu się to udało. Warunki ze względu na pogodę bardzo ciężkie aczkolwiek impreza super z organizowana. Szacunek też dla okolicznych mieszkańców za "prysznic" na trasie. Gratulacje dla wszystkich uczestników. Pozdrawiam!
Ps. Podziękowania dla Arka za foty.
Więcej zdjęć z na
Picasa Web Albums
– IV Półmaraton Ziemi Puckiej, 2012.